What We Offer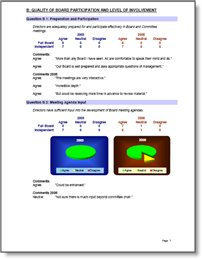 An annual checkup means a healthier and more effective board.
Whether you are a Fortune 100 multinational, a private company or a non-profit organization, if you have a Board of Directors you should be reaping the benefits of board and 360 assessments. We provide a simplified self-evaluation survey process that saves you time. It's convenient, confidential, customizable and cost effective.
Convenience: Our years of experience with board self-evaluations means you can be confident and assured that the process will go smoothly, even if the unexpected occurs. Once the questionnaire has been finalized, the rest is up to us. Your reports arrive in the mail, as you specify. Even our invoice is painless with no surprises in the form of extra charges for phone calls, consultations or even (domestic) shipping.
Confidentiality: All responses from individual participants, whether on surveys or in interviews, are kept strictly confidential and anonymous. Once completed, surveys are returned directly to us and not back to the company or to an intermediary. This means there are no issues because someone on the board or management knows the identities of particular respondents and their responses -- and it also means participants can be completely confident that their responses are anonymous. As experienced governance experts in complex litigation, we are very sensitive to the liability issues involved with board advisory work and board evaluation processes. We are well versed in facilitating board evaluation processes that address these concerns. We offer paper based solutions to meet heightened concerns and we keep our clients' names and information confidential as well. For that reason, you will not see a list of client names on our website or in the quotes about our services on this page. If you have any questions on these issues and the advantages of strict confidentiality to your board practices, please call Eleanor Bloxham at 614-571-7020 to discuss.
Customizable Questions: Use our questionnaire, your questionnaire, or a combination. Our questionnaire is a standard set of common questions that, based on our extensive experience, we think should be considered. However, each company/organization is unique and therefore, we encourage you to customize the questionnaire to fit your situation, as needed. The breadth of the survey is up to you and can include surveys for the full board, each committee and individual director 360 evaluations.
Accuracy: After compilation of the results, the tallies, including comments, are subjected to three separate 100% audits to guarantee accuracy.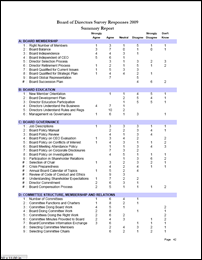 Usefulness: Our reports reflect the responses in several useful formats. A detail section shows each question, a graphical, "instant-read" picture of the responses (to quickly spot areas for review) and all of the comments for that question. In addition, a summary of the numerical responses allows for a quick scan of the results. (For our repeat clients, we provide a comparison to the previous year's responses -- numerical, graphical and comments -- for easy comparison. Our clients have found this to be particularly helpful.)
Affordability: Pricing is determined by the total number of questions and the number of participants plus a small base fee. The base fee covers 3 additional copies of each report, all expenses, and domestic shipping. You will know the full and total price before the project begins. No surprises.
Expertise: We provide access to the expertise of governance authorities who have been pioneers in innovating board evaluation processes stretching back long before they were mandated and who have continued to help and assist firms of all sizes over the last decade to choose an approach which fits their board. Our extensive experience comes from our work with companies of every size (startup to Fortune 100), both for-profit and tax-exempt, public and private, and governments, including global and non-U.S. based.
What Our Customers Say
"I just finished looking through your board evaluation reports this morning, and they are excellent!"
"Thanks again for your very helpful work for us this year."
"Everything we need is there."
"Thank you again for your always excellent work."
"The Board was pleased and the bill was exactly what you said it would be."
"Thanks again for your great work with us this year."
"Appreciate your good work with us."

"I just put the check in the mail to you for your great work on the board evaluations. Thank you again."

"Very impressed and satisfied with the work."
"Your reports were very helpful and well received by the board. I hope that your relationship [with us] will continue."
"We appreciated your valuable insight."
"Your suggestions were excellent."
Excellent work."
For complimentary copies of our Client Insights and Analysis reports on the Board Evaluation Process and How to Make it Effective, including why, how, and what to consider, email ebloxham@thevaluealliance.com.